N.B. This site uses cookies, please see our
Privacy
page. You can refuse to accept cookies however you agree to cookies when you use our Basket.
Practical Kettlebell Training 2.5 Hour 2 X DVD Set
Product Ref: QR0570
Product Description
Just Add to Basket above to pay Securely with PayPal
or click below to buy from our AMAZON Store.
FREE Shipping from AMAZON.
Customer Benefits -
Feel the difference in 1 week. See the difference in 1 month!
Improved circulation
Reduced injury rates
Strengthen your back
Increased heart and lung functioning
Reduced stress levels
Improved energy
Greater mental focus
Weight loss of up to 5kg per month - proven by hundreds of customers worldwide!
Product Features -
2.5 hours of kettlebell instruction and follow along workouts
All exercises broken down in an easy to learn format that teaches trainers to deliver the same material
Split screen to see exactly where the body is and how to transition from one move to the next
What kettlebell weight to start with
Health and safety
Circuits
Introduction to kettlebell sport
CAST IRON GUARANTEE - If you are not satisfied with this DVD and find it does nothing to improve your health or fitness then return it for a 100% refund!
After many months of anticipation the Practical Kettlebell Training DVD is finally here! This is not your average 40 minute product with a few exercises and some fitness bunnies parading about either. We have put together the UKs first and only Kettlebell masterclass and workout DVD. With over 2.5 hours of material on 2 discs there is enough information to take complete beginners to the rank of kettlebell expert and to fine tune exercise knowledge and material delivery for trainers and fitness professionals.
Disc 1 covers an introduction with health and safety, starting weights, training progress and more and then leads into a functional warm up and stretch pre workout. After teaching you how to squat and deadlift we then cover the essential basics. The exercises are filmed in split screen from front and side so that the mechanics of each exercise can be seen and understood. All exercises are modified where required and progressed in stages so that learning is fun and fast. Each exercise also has a bullet point checklist at the end for quick reference and to fine tune technique. This is a great resource for any personal trainer, coach or fitness enthusiast. For the public tired of the gym, let kettle bells show you how to achieve your training goals!
Body Conditioning at Home. This DVD Will Change Your Life!
Kettlebell Workout DVDs - Disc 1 Exercises -
2 hand swing
The only exercise you will need to lose weight and maintain health. Working 80% of the body, with a high metabolic demand and calorie burn you will notice the difference in just weeks as you become leaner, stronger and have more energy.


1 hand swing
Progressing from the 2 hand swing you can now increase the work on your grip, engage the obliques and stabilize the body against the motion of the kettlebell.

Clean
A great exercise for the upper back and teaching you how to control the amount of force you produce. Add a squat and you have a full body workout.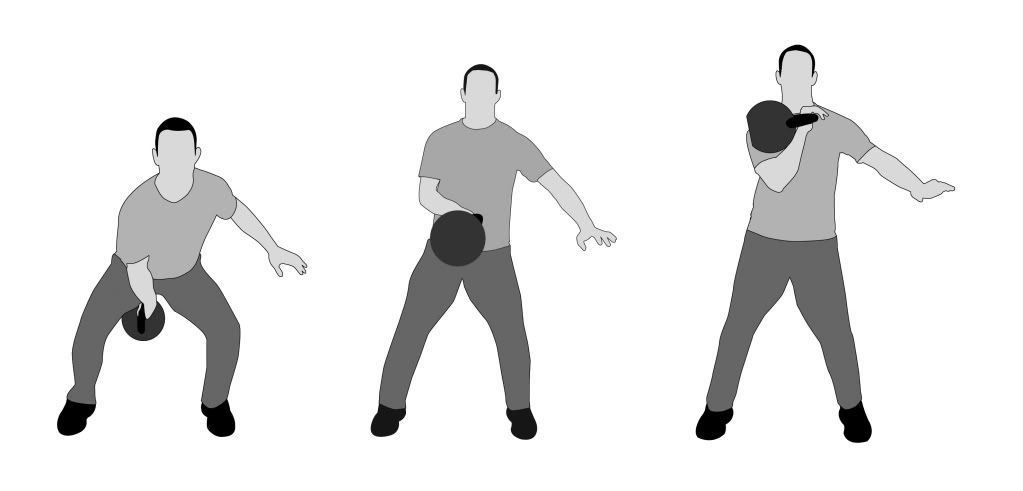 Press
Shoulder isolation exercise with added rotation, strengthen weak rotator cuffs and improve shoulder stability.
Snatch
Develop explosive power and see it carry over into your sport. Engage the core and maximize your jump potential by training triple extension with overload.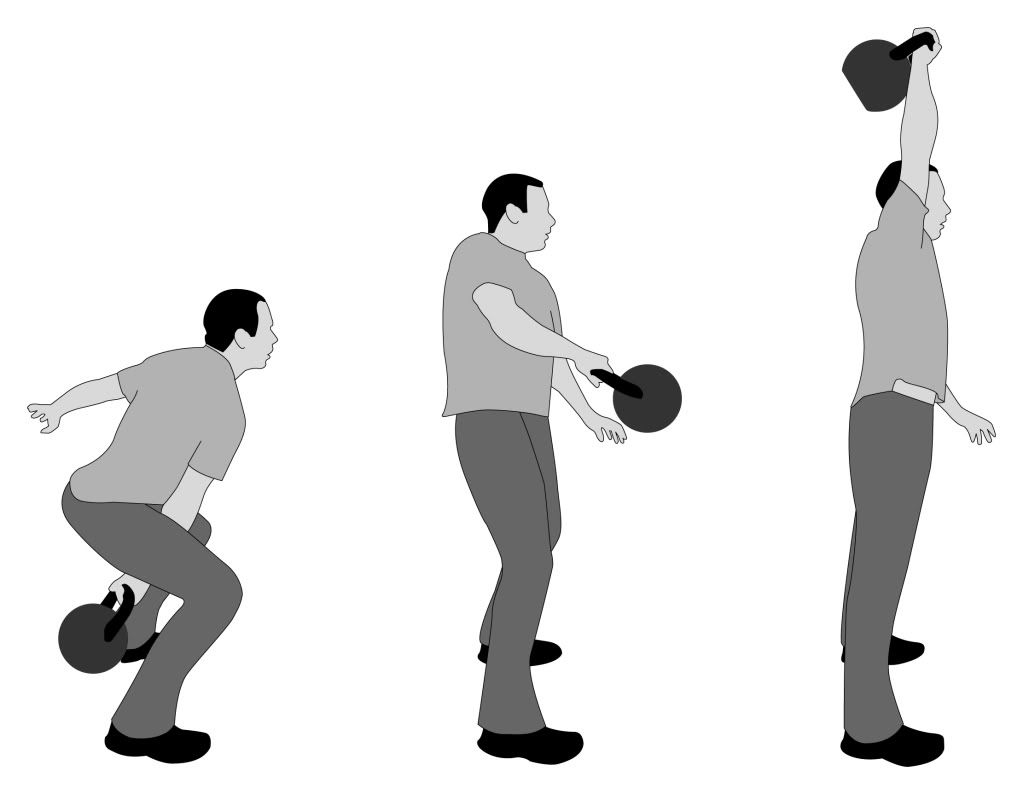 Reverse windmill
A modification of the overhead windmill, learn to engage the core and lengthen the hamstrings in this gentle exercise.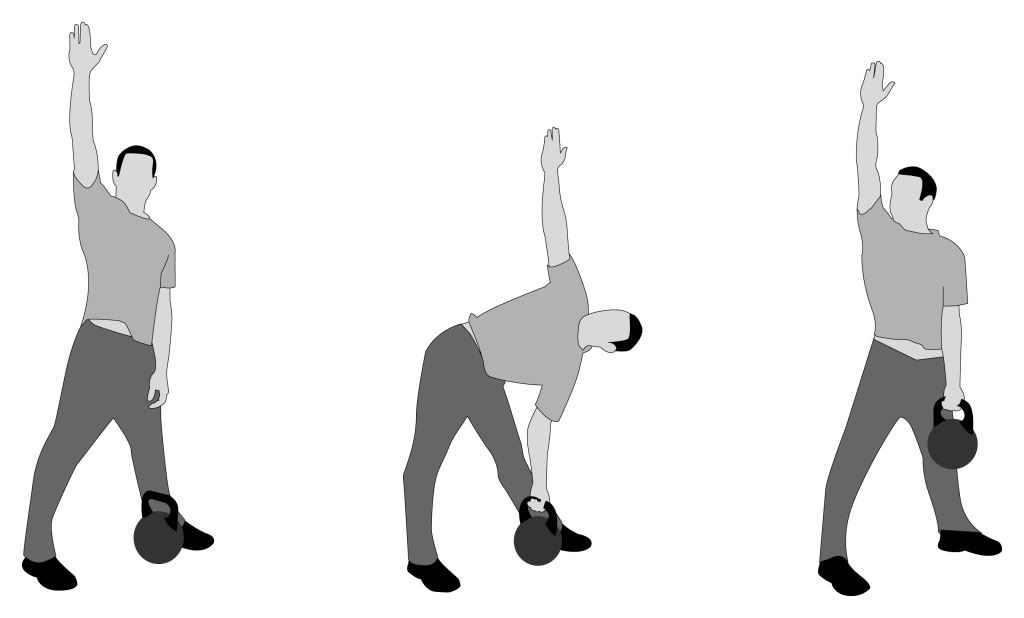 Overhead windmill
Take the weight overhead to load the core and hamstrings and feel the kettle bell stretch you and help with shoulder stability.
Kettlebell get up
The 1-stop workout that hits the whole body. Taking 15 seconds for one good repetition the get up has been used by leading experts as a movement screen based on its dynamic postures, transitions and the need to maintain strength, stability, control and fluid movement throughout the entire exercise. Do 10 and check your pulse!

Each exercise is split screen and broken down to the most effective teaching components we have found through teaching hundreds of fitness professionals to become qualified kettlebell instructors. The exercises also have teaching point refreshers at the end of each tutorial for quick reference.
The Kettlebell DVDs, Disc 2 allows you to choose from 7 timed workouts ranging from 5 to 15 minutes so you simply push play and get fit! If you want to learn how to use kettlebells properly and then maximize their potential with several workouts then this is the product for you!
Probably the most important feature of this product is the 7 timed workouts as you have a take home package for fat loss! Kettlebells work multiple muscle groups so the calorie demand is quite high, they also raise metabolism and have been shown to improve your physique and reduce unwanted bodyfat with just 20 minutes of training for at least 3 times a week. There are many training variables and a lot of confusion associated with these. All you need to know is that the most important factor for steady weight loss and maintaining that weight loss is frequency. Basically, exercising at least 3-4 times a week will deliver solid results and the workouts ensure that you have challenging routines to help achieve your goals. We have done it all - you just have to press play and train :)
As a bonus there are chapters on handle alignment for improving the kettlebell snatch and an introduction to kettlebell sport with timed workouts for each event.
This DVD package is the video version of the course used to teach over 500 personal trainers how to use kettlebells and thousands of members of the general public to take charge of their own fitness and make great improvements in health and wellbeing.
Just Add to Basket above to pay Securely with PayPal
or click below to buy from our AMAZON Store.
FREE Shipping from AMAZON.
Amazon Feedback -
Most Helpful Customer Reviews
24 of 24 people found the following review helpful
Kettlebell Training - no frills, everything you need.
, 17 Nov 2011
This review is from:
Practical Kettlebell Training Vol 1. 2.5 hours 2 DVD set (Misc.)
I had purchased this DVD a year ago. Now I am fitter, stronger and slimmer than I thought I could be just using a DVD and a kettlebell. First 4 weeks following this dd workout I lost 1 stone in my livingroom! and a notiable increas in general wellbeing. Within 9 months I had lost total of 3 stone of excess body FAT and gained lean and slim muscle. I did not pay £40 a month for a gym subscription or need a peronal trainer, I trained (an still do) for a maximum of 20 mins every second day (minimum 3 times a week - If you have been put off by that comment then i suggest you go and find a liposuction clinic and hope you dont require basic phisical exertion any time soon- because fitnss requires effort ;) So make the effort to get a cast iron kettlebell and this dvd. The DVD is idiot proof and gives you the workouts to train along with - all you need to do i find around 20 minutes a couple of times a week to benefit from the dvd. The excerises are explained clearly (and accurately) it covers warm up, stretch and workouts that are sectioned into 5 10 15 mins, progresing in difficulty. Do yourself a favor and get a kettlebell, this DVD and make an effort. If you try you will benefit from this! Also i wouldnt pay much heed to the comment from the other person regarding "lighting", "camera focus" etc,not sure what that's about...possbly they were disapointed it wasnt some chick in a bikini doing the workout in the middle of Bannatynes - however - The info is good and the DVD is sectioned into useful and fully individual chapers on health and safety, do's n dont's and an intro on the size and weight of kettlebell. Then each exerise demonstrated and broken down into teaching points. Once you have looked at this then you have seperate workouts to play and follow. So - forgetting the "lighting" and "focus" which is actually fine - this DVD has given me more than I could have expeted, it will do the same for you if you make the effort.
16 of 17 people found the following review helpful
5.0 out of 5 stars
Practical Kettlebell Training, 23 Aug 2010
This review is from:
Practical Kettlebell Training Vol 1. 2.5 hours 2 DVD set (Misc.)
This is the only DVD you will ever need about Kettlebell's period. Dont even bother buying anything else. It will teach you all the basic moves and some advanced stuff. It is clear and concise and shows the exercises from multiple angles enhancing your learning experience. Save some money and buy only one dvd this one. John Murphy
15 of 16 people found the following review helpful
5.0 out of 5 stars
Practical, informative and authoritative, 10 Aug 2010
This review is from:
Practical Kettlebell Training Vol 1. 2.5 hours 2 DVD set (Misc.)
I have had the very good fortune to make the acquaintance of Stephen Aish. He is without doubt amongst the most informed Coaches working in the Fitness Conditioning and Strength Training arena. I met Steve when searching for a set of Kettlebells. His firm quickly set itself apart from its competitors in the level of service, quality fo product and support they offer.

It is no surprise to me that Stephen Aish has produced a Market Leading Instructional Kettlebell DVD. Consistent with their overall client cantered approach, the content of the DVD is well thought out, clearly presented and easy to follow. The Kettlebell Masterclass presents a comprehensive training package. There is sufficient challenge for any level of ability, with clear routes of progression to avoid becoming discouraged. Presented by Steve himself, this DVD also sets itself apart with both the level of technical instruction and accessible style in which it is presented. In contrast to the typical self-aggrandising, and often unintelligible, offerings from our American Cousins, this is a practical, no-nonsense guide to what works.

Whatever point you have reached in your own training, I'm confident this Kettlebell DVD is a sound investment that will help you achieve greater results."
4 of 4 people found the following review helpful
5.0 out of 5 stars
Superb, 2 Nov 2011
This review is from:
Practical Kettlebell Training Vol 1. 2.5 hours 2 DVD set (Misc.)
I purchased this DVD over a year ago and have found it brilliant. Stephen Aish is at the end of the day a Kettlebell Expert. Follow what he does and you will be proficient in the basic Kettlebell techniques. Within 4-6 weeks the results will follow regarding your overall fitness and strength. Expect your inner thighs to ache when you start doing the two handed swings for example. It won't be that you're doing it wrong, you're just using muscles you don't normally use. After a couple of weeks your legs get use to it. For the results you achieve it is worth it.
More interestingly it is fun to do, you'll struggle to get bored doing this stuff.
When he says you can achieve a full body workout in under 20 minutes he is not kidding....
4 of 4 people found the following review helpful
5.0 out of 5 stars
Ideal for a beginner and beyond, 21 Jun 2011
This review is from:
Practical Kettlebell Training Vol 1. 2.5 hours 2 DVD set (Misc.)
I bought two kettlebell dvds, both purporting to suit beginners. I gave up three minutes into the routine on the other dvd, which was 20 minutes long. I like the way the routines on this dvd are between 5 and 15 minutes. I am currently doing the first 5 minute routine and is perfect. I actually can see myself doing this and building up to the 15 minute routine. I can see myself, at some point in the future, wanting a tougher workout. That is when I will switch to the other dvd. Or perhaps not. So far so good. This dvd is ideal for my current need and for the foreseeable future. Top notch.
2 of 2 people found the following review helpful
5.0 out of 5 stars
Absolutely Fab, 16 Jan 2012
This review is from:
Practical Kettlebell Training Vol 1. 2.5 hours 2 DVD set (Misc.)
There are no frills with this DVD but if you are serious about kettlebell training and losing weight you won't need them. This DVD is the best DVD i have with regards to safety and getting to grips - quite literally - with the basics. I am female and have lost body fat and have become well toned with kettlebells. This DVD contains finer points sometimes not covered in other DVDs, such as how to safely change kettlebell with alternate swings and how to grip for the clean and the snatch. i hope there is an advanced DVD to follow up at some point.
2 of 2 people found the following review helpful
5.0 out of 5 stars
Brilliant!, 16 Nov 2011
This review is from:
Practical Kettlebell Training Vol 1. 2.5 hours 2 DVD set (Misc.)
This IS the only kettlebells training DVD you need! All you need to know is in this DVD set. It contains all that is important for safe and effective kettlebell training, with warming up and cooling down. This isn't one of those cheesy production's that promise you the world for no effort... this is great training from an expert!
1 of 1 people found the following review helpful
5.0 out of 5 stars
Superb kettle bell tuition, 14 April 2012
This review is from:
Practical Kettlebell Training Vol 1. 2.5 hours 2 DVD set (Misc.)
Another glowing review for this DVD set.

Having used kettle bells at our local gym, I was hooked and so bought some for home use. Quickly realised I needed some expert training and a decent workout routine. I'd already had a dubious kettle bell instructional session at the gym (sketchy technical details and no proper, structured workout routine issued) and thought the chances of injury were high as a result. So the search began for a reasonably priced kettle bell DVD.

I bought this and am completely delighted. It's superb value. It's got all the techincal information you need for a thorough grounding in kettle bell use. I needed to find a decent instructor and can say without fear or favour that Stephen Aish is the man for the job. He knows his subject inside out and equally, his ability to instruct is staggeringly good. He presents the DVD with the type of quiet confidence only found in a subject expert.

The split screen presentation is a revelation and really helps the viewer to adopt the correct stance. The chapter review/recaps are a great aide memoir.

And did I say this was exceptionally good value for money?!
3 of 3 people found the following review helpful
4.0 out of 5 stars
Quality kettlebell DVD for beginners and advanced, 25 Nov 2011
This review is from:
Practical Kettlebell Training Vol 1. 2.5 hours 2 DVD set (Misc.)
A good, comprehensive DVD is always going to be a much-needed tool and this is what Practical Kettlebell Training represents.

This 2-disc DVD set features the UK's Stephen Aish, who has been teaching kettlebells and holding masterclasses for many years (and isn't it great to be promoting a UK trainer for a change?).

The DVD aims to be the complete package, so covers everything from the moment you first see a kettlebell to the key exercises like swing, snatch, squat, jerk, windmill and so on, to advanced training and competition techniques.

I received a copy of this DVD after doing a course with Steve and was very impressed by it. The production values are not the flashiest, but the substance is there. Steve's approach is quite technical and detailed, which I think is great for people who are home trainers or those who plan to teach others.

In fact, the vast majority of people I see in gyms using and teaching kettlebells should have a copy of this DVD! It's clear that many people only have the vaguest idea of how to teach or execute these movements properly, particularly the clean and the snatch. Practical Kettlebell Training breaks these movements down and provides effective drills so that people can learn the movements without bashing the hell out of their forearms, ripping up their palms or risking injury because they can't stabilise the kettlebell properly overhead.

A complete beginner with their first kettlebell could pick this DVD up and begin to train effectively. A person with some experience who needs more detail on technique and advanced pointers would also benefit - especially if they are self taught or if they went on a course a while ago and can't remember all the teaching points. And anyone who is teaching others will get a lot from the instruction points and advice on how to train groups.

So this DVD is really a great all-rounder and if you don't have a decent source of kettlebell instruction, I recommend it.
This DVD has sold thousands of copies around the world and is regarded by many as an authority on teaching all levels correct kettlebell foundations in an easy to follow and user-friendly format.
No Features or Extensions